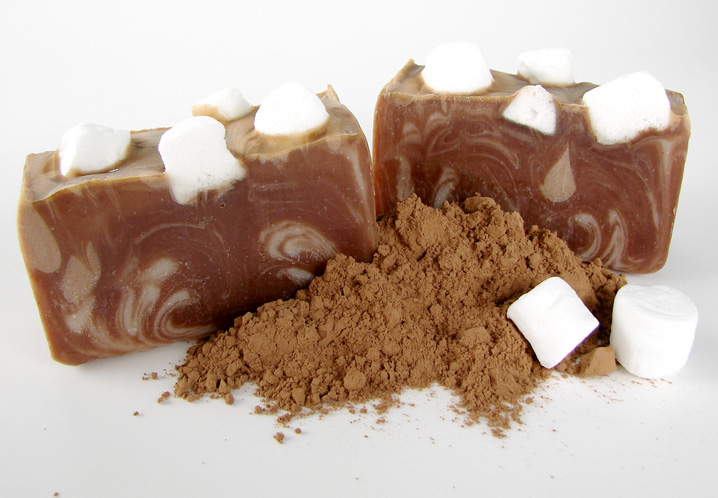 As promised (on Facebook;
what, you're not reading our
Facebook fan page
obsessively? Shame. Shame
), my Hot Cocoa Soap recipe in all of its chocolaty goodness! I used an advanced technique called 'In the Pot Swirl'. Basically, you split up your batch into two different colors and pour 1 color
into the second pot
in various places. The soap batter naturally swirls the colors together when you pour the soap into the mold (I used the
5 lb Wooden Log Mold
). I also used real cocoa powder as my brown colorant then mixed in
Super Pearly White Mica
(in about 12 ounces of soap batter) for the swirling color. Swirling a thin layer on top adds a nice touch so save a little extra of the Super Pearly White soap. You can use any swirl technique that you want though. However, if you want to see exactly how the 'In The Pot Swirl' technique is done,
check out the premium Soap Queen TV episode
and watch the step by step process.
I do have to admit that I made this recipe to test a new fragrance called Hot Cocoa that Bramble Berry is bringing in for the holidays. It's pure chocolate bliss and passed the cold process test with flying colors. I've already ordered it so keep your eyes peeled on the
Bramble Berry site
. In the mean time, I would suggest a combination of
Dark Rich Chocolate
and
Vanilla Select
.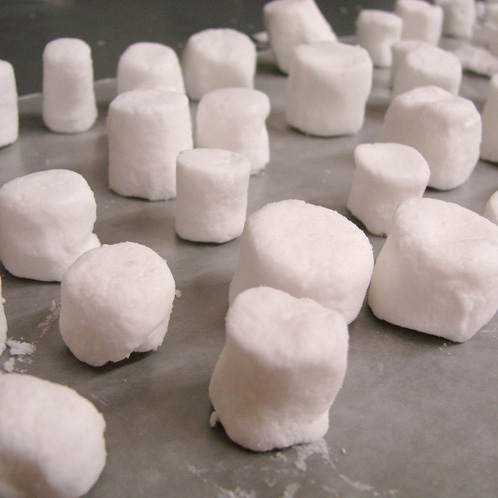 Ingredients
Electric Mixer
Knife
ONE: Melt 4 ounces of white soap base in the microwave. Use an electric mixer to blend the melt and pour soap base with 2 tablespoons of liquid soap, 1 ml of Vanilla Select and 1 ml of Vanilla Color Stabilizer. Once the mixture is fluffy, scoop it into a silicone tray mold and let cool for about 30 minutes.
TWO: Once the mixture has cooled, gently release (or pry) the soap from the mold and cut evenly into marshmallow sized squares. Use your hands to round out the corners (they mold really easily).
THREE:
Pop them on top of your CP soap at thin trace for a sweet accent!

Get everything you need for the soap and the marshmallows with the click of a button. The only thing you'll have to get on your own is the olive oil. I've also included the 5 pound wooden mold but if you already have one, remember that you can delete anything that you don't need from your shopping cart.